The Town customized the development schedule for us and helped us to get into our business and into our location much faster to meet the needs of our customers. Being centrally located in Gilbert, Arizona allows us to ship globally to those customers.
12%
Gilbert Job Growth
2014 – 2019
1800+
2019 Degrees Awarded
Related to Manufacturing Occupations
69K+
Manufacturing Jobs
Within a 30-Minute Commute
Overview
With convenient market accessibility, an abundance of skilled labor, and an affordable operating environment, Arizona continually ranks as one of the best states for manufacturing. Over 3,000 manufacturing establishments call the Phoenix metro home, allowing them to access over 34 million consumers within a half-day truck haul. Gilbert-based companies enjoy benefits from decades of investment in local education and workforce development initiatives.
GILBERT-BASED INVESTMENTS
Silent-Aire is a manufacturer of custom HVAC systems in the healthcare, industrial, and data center markets. The company, based out of Edmonton, Alberta, Canada, has been in business for over 20 years with its product deployed around the globe. In 2013, Silent-Aire expanded operations into Gilbert, Arizona employing approximately 150 individuals and in 2017 expanded further by relocating its U.S. Headquarters to Gilbert with over 400 employees. Silent-Aire opened its European Headquarters in Dublin, Ireland in 2019.
Northrop Grumman develops and manufactures small- and medium-class space systems for commercial, military and civil government customers from its Gilbert, Arizona manufacturing facility.
The company's primary products are satellites and launch vehicles, including low-Earth orbit, geosynchronous-Earth orbit and planetary exploration spacecraft for communications, remote sensing, scientific and defense missions; human-rated space systems for Earth-orbit, lunar, and other missions. Noted as one of the most advanced satellite testing facilities in the world, Northrop currently employs over 400 within the community.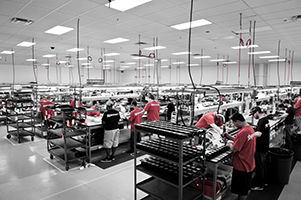 Rigid Industries is a world leader in forward-projecting LED lighting. Rigid LED lighting products are used in agriculture, construction, police, fire, rescue, industrial, marine, military, mining, off-road and power sports. Known for its rugged, durable products, and backed by a world-renowned warranty program, Rigid Industries® is committed to providing innovative technologies and guarantees a quality product designed, engineered and assembled in the US.
Footprint, headquartered in Gilbert, AZ, is a sustainable technology firm focused on reducing or eliminating plastics through the development and manufacturing of revolutionary technologies. Its innovative holistic approach to raw material sourcing, manufacturing and process improvement allows Footprint to manufacture environmentally friendly packaging solutions that cost less. Initially focusing on bio-based reinforced plastics and the design, development, and implementation of next-generation manufacturing for fiber-based packaging; Footprint is enabling manufacturing to return to North America by providing cost-competitive packaging solutions to Fortune 500 companies.
TOMAR Electronics Inc. has designed and manufactured industry-leading emergency signaling products in the U.S.A. since 1968. From the latest in emergency vehicle lighting, LED lightbars, LED lightheads, sirens, and optical preemption systems to audible and visual warning signals for industrial applications.
As a high technology contract design and manufacturing organization, Pure-Logic Industries, Inc. provides a one-stop solution for Original Equipment Manufacturers (O.E.M.'s) seeking to consolidate their vendor base. Pure-Logic will evaluate product features and collaborate with clients on product enhancements and cost management. Focused industries include: medical and semi-conductor equipment, aerospace component, bio-pharmaceutical equipment, and commercial products.
Bio Huma Netics (BHN) creates and produces technologically enhanced plant nutrition and protection products, in addition to soil and wastewater bioremediation products. Since being founded in 1973 when three men discovered a unique oxidized humate material from a mine in the northwest U.S., the company has continued to be innovation leaders. They've created over 20 new crop nutrition products for organic farming (Fertigold® Organics) and the development of a Precision Blending℠ technology/service that creates custom, ready to use fertilizer blends to meet the specific individual needs of conventional farmers and their crops.
Herbally Yours is based in Gilbert, AZ and provides custom contract manufacturing of liquid products, therapeutic creams and lotions, powders, capsules, botanical extracts, skincare and more. They have been providing manufacturing services for nutritional supplements and personal care products for over 20 years.
EDUCATIONAL ASSETS
Maricopa Community Colleges, one of the largest community college networks in the nation, produces top two-year technical talent with 270,000 students. Chandler-Gilbert Community College (CGCC) is one of Maricopa Community Colleges fastest-growing colleges. CGCC offers educational programs centered on careers in manufacturing. The college focuses on three major sub-categories primarily found in the Phoenix market:
High-Tech Manufacturing: The manufacture of high-tech equipment such as computers, semiconductors, electronic instruments, and communications equipment.
Aerospace: The manufacture of aircraft, aircraft engines, rockets, missiles, space vehicles, and navigation equipment for both the military and civilian markets.
Other Manufacturing: All other manufacturing areas, including food and metals processing, clothing, chemicals, furniture, machinery, electrical, and transportation equipment manufacturing.
The East Valley Institute of Technology offers an adult education as well as a high school education Precision Manufacturing program that allows students to learn the set-up and operation of modern, manual and computerized tools used by machinists, die and mold makers, and skilled professionals in the manufacturing industry.  Through this program, students will develop leadership, management, quality control, business and customer relations skills while working towards national certifications.