Opportunity Zone
Investment opportunities abound in Gilbert for those looking to make an impact in a thriving community. Learn more below about the Federal Opportunity Zone program, the unique attributes of Gilbert's zones, recent zone developments, and potential investment opportunities.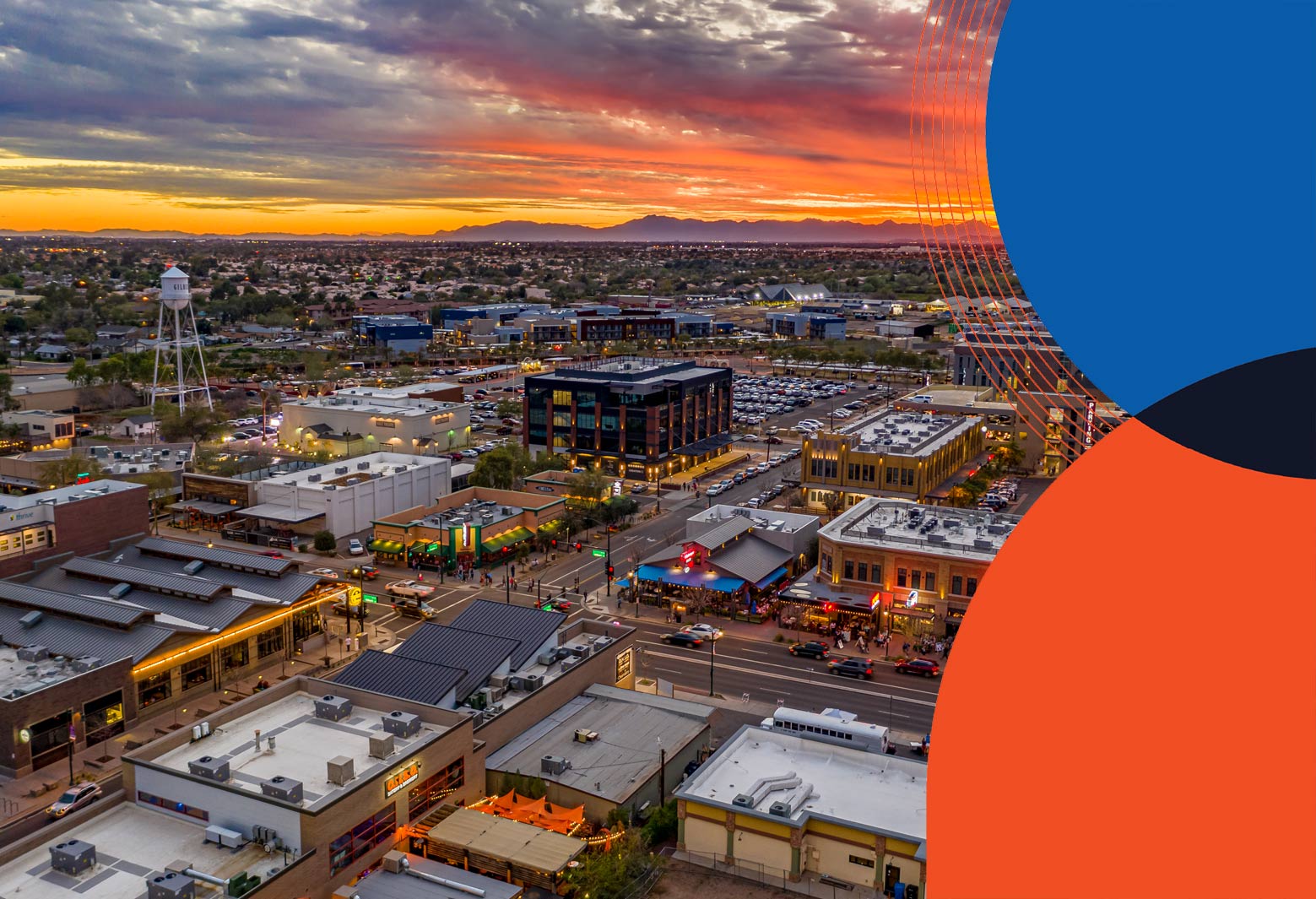 What is an Opportunity Zone?
The Federal Opportunity Zone program is a community and economic development tool that aims to drive long-term private investment into economically challenged areas of communities nationwide. The Opportunity Zone program provides a tax incentive for investors to re-invest their unrealized capital gains into Opportunity Funds that are dedicated to investing into Opportunity Zones.
Eligibility Requirements
The investment must be made via a Qualified Opportunity Fund. An Opportunity Fund is a privately managed investment vehicle organized as a corporation or a partnership for the purpose of investing in qualified Opportunity Zone Businesses. The fund must hold at least 90% of its assets in such property.
The investment must be derived from a gain in another investment and transferred into an Opportunity Fund within 180 days of realizing the gain.
Tax Benefits for Eligible Investment
If the investment is held for a minimum of five years, the taxable amount of the capital gains reinvested is reduced by 10%.

If the investment is held for seven years, the taxable amount of capital gains reinvested is reduced by an additional 5%, bringing the total reduction to 15%.

After holding for ten years, there is a permanent exclusion from taxable income on the capital gains from the investment in the Opportunity Fund.
Interested in learning more about Qualified Opportunity Funds?
Find additional information from the Tax Foundation on Qualified Opportunity Funds.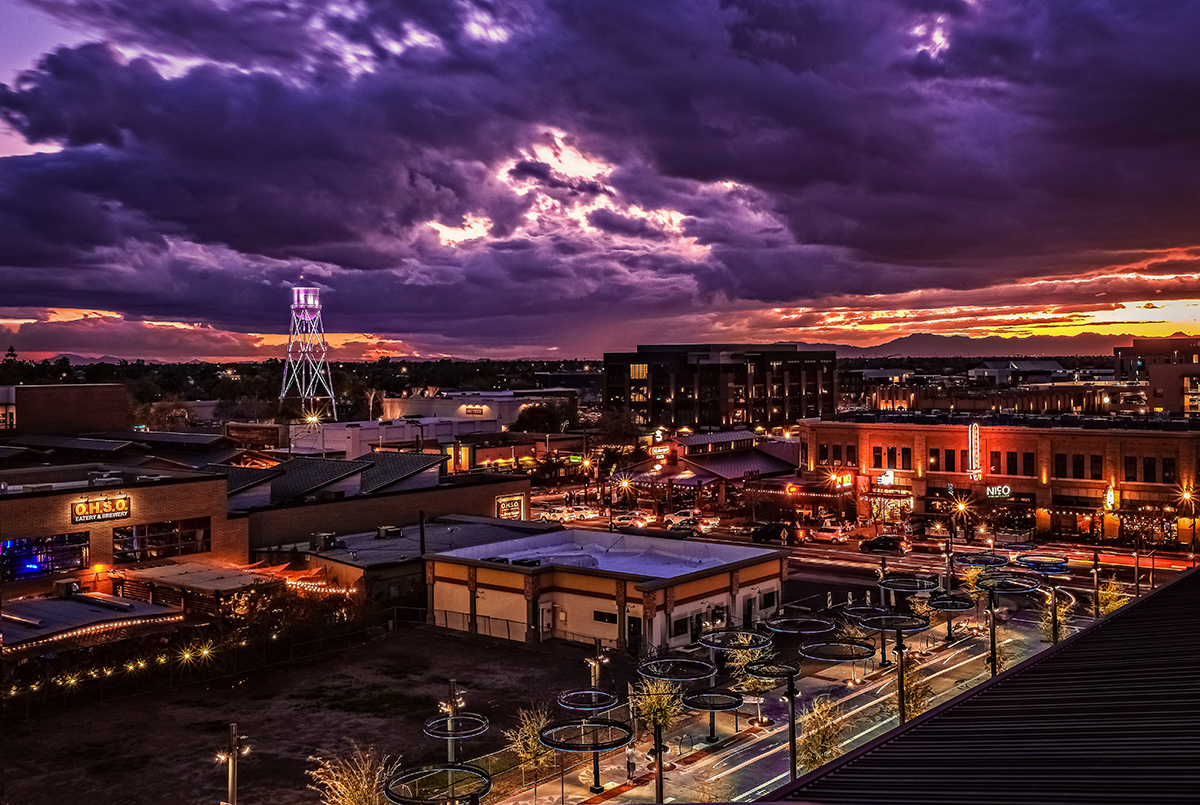 Gilbert's Opportunity Zone
Located near the original Town site, Gilbert's Opportunity Zone is one square mile and encompasses the community's Northwest Growth Area and the downtown Heritage District. Focused revitalization efforts are underway in these key growth areas and Gilbert is making strategic infrastructure improvements, encouraging private sector reinvestment and new development, which in return is increasing property values, and improving quality of life in the community.
Over the past ten years, Gilbert's Heritage District has undergone a renaissance, transforming it into a premier entertainment district and employment destination within metro Phoenix. Since 2012 the Heritage District has had more than $60 million in public investment and attracted over $80 million in private investment. As a result, the District in now home to over 140 businesses ranging from restaurants, to boutique retailers, to higher education institutions, and has seen a 110% increase in annual sales tax revenue over the last five years.
The Northwest Growth Area is Gilbert's densest employment area, with 20.7% of the Town's job base. In Fiscal Year 2019, Gilbert initiated revitalization efforts in the area. The beneficiary of over $20 million in public investment and over $130 million in private investment since 2012, this area continues to attract a portfolio of industrial, office, housing, and retail uses with industry-leading anchor institutions and companies. Notable employers include GoDaddy, Lockheed Martin, Northrop Grumman, MOOG Broad Reach, and Curry Supply Company. Ideal investment projects for the Northwest Growth Area could include manufacturing, distribution, research and development, office, hotel, breweries/tap houses, and live/work residential.
Both the Northwest Growth Area and the Heritage District present unique and different opportunities for investors.
Interested in learning more about Gilbert's Opportunity Zone?
Fill out the inquiry form below and we'll be in contact.
Recent Opportunity Zone Developments
NORTH ANCHOR


In 2019, the Gilbert Town Council unanimously approved the development of this now 10.8-acre site. This development will consist of a minimum of 500,000 gross square feet, and is planned to include class A office, retail, hotel, multifamily housing, an urban park, a pedestrian paseo, 2 parking structures.

SOUTH ANCHOR


Serving as a gateway entrance to the Heritage District, the South Anchor development will strengthen adjacent commercial uses and spur development of nearby vacant parcels. Gilbert is currently in negotiations with Developers for the 2.18-acre site.

THE PASEO


This north-south, car-free pedestrian and bicycle route will link existing Heritage District neighborhoods with key redevelopment areas. A 'common thread' of distinctive landscape, paving, furniture, and signing elements will create a joyful and memorable setting.

VAUGHN VENTILATOR


A new 'alternative route' is in the planning and discovery phase and will provide vehicular access through the District from the west. The slow-speed, human-scaled road will be designed to provide a setting for strolling and window-shopping in the District Core.

THE COLLAB


The Collab is a four-story, mixed-use project that recently finished construction and is now available for lease. The 40,500 square-foot building brings new office, shopping, and dining opportunities to the Heritage District.

UNIVERSITY BUILDING


Gilbert's University Building is home to two higher education institutions; Park University and the University of Arizona.

Park University began offering classes in the fall of 2018 and grew to over 300 students in just one year.

The University of Arizona College of Nursing began offering a Bachelor of Science in Nursing (BSN-IH) at the University Building in Fall 2019. This is the first program in the nation to incorporate integrative health knowledge and interventions into a BSN program.
600 N. GILBERT ROAD
LAND AC: 1.00 AC
LAND SF: 43,560 SF
ZONING: SC
PROPOSED USE: COMMERCIAL, CONVENIENCE STORE, GENERAL FREESTANDING,
OFFICE, RETAIL, STOREFRONT RETAIL/OFFICE
620 N. GILBERT ROAD
LAND AC: 0.51 AC
LAND SF: 22,002 SF
ZONING: LI, GILBERT
PROPOSED USE: COMMERCIAL, INDUSTRIAL
640 N. GILBERT ROAD
LAND AC: 0.51 AC
LAND SF: 22,002 SF
ZONING: LI, GILBERT
PROPOSED USE: COMMERCIAL, INDUSTRIAL
660 N. GILBERT ROAD
LAND AC: 1.11 AC
LAND SF: 48,352 SF
ZONING: SR
PROPOSED USE: STOREFRONT RETAIL/OFFICE
TELL ME MORE ABOUT GILBERT'S OPPORTUNITY ZONE