Market Access
Gilbert offers a multimodal transportation network that provides access to clients, workforce, and supply chains enhancing logistic capabilities and reducing operational costs.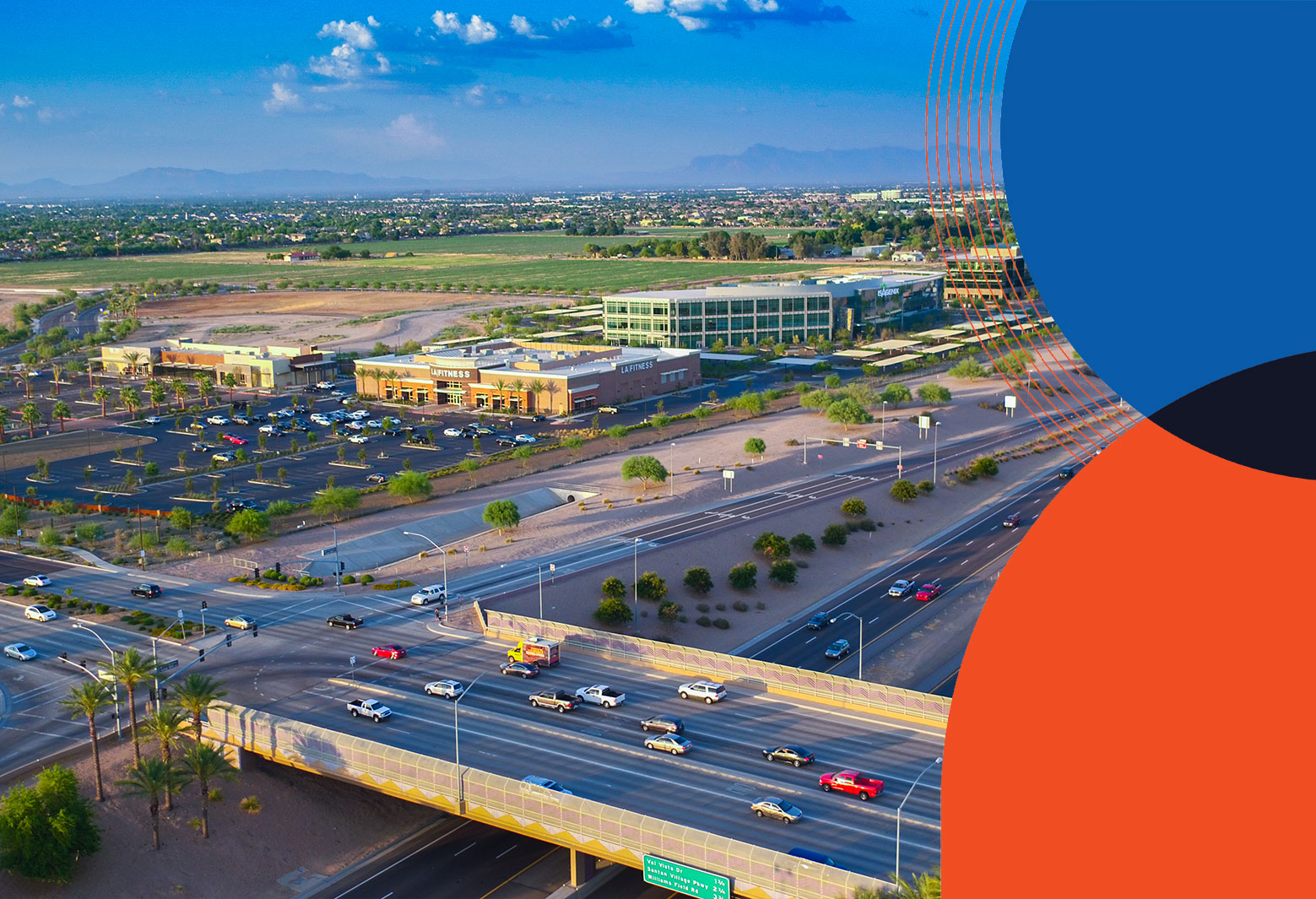 GROUND
Linked to the West and East coasts by a strong ground transportation network, Gilbert is eight miles from Interstate 10, a highway that extends from California to Florida, offering convenient access to other major southwest markets including Southern California and Mexico.
Gilbert also offers connectivity to the rest of the Phoenix metropolitan area with direct access to U.S. 60 and Loop 202 Freeway. Due to its geographic location in the southeast valley, Gilbert provides for a convenient reverse commute for employers based in the community.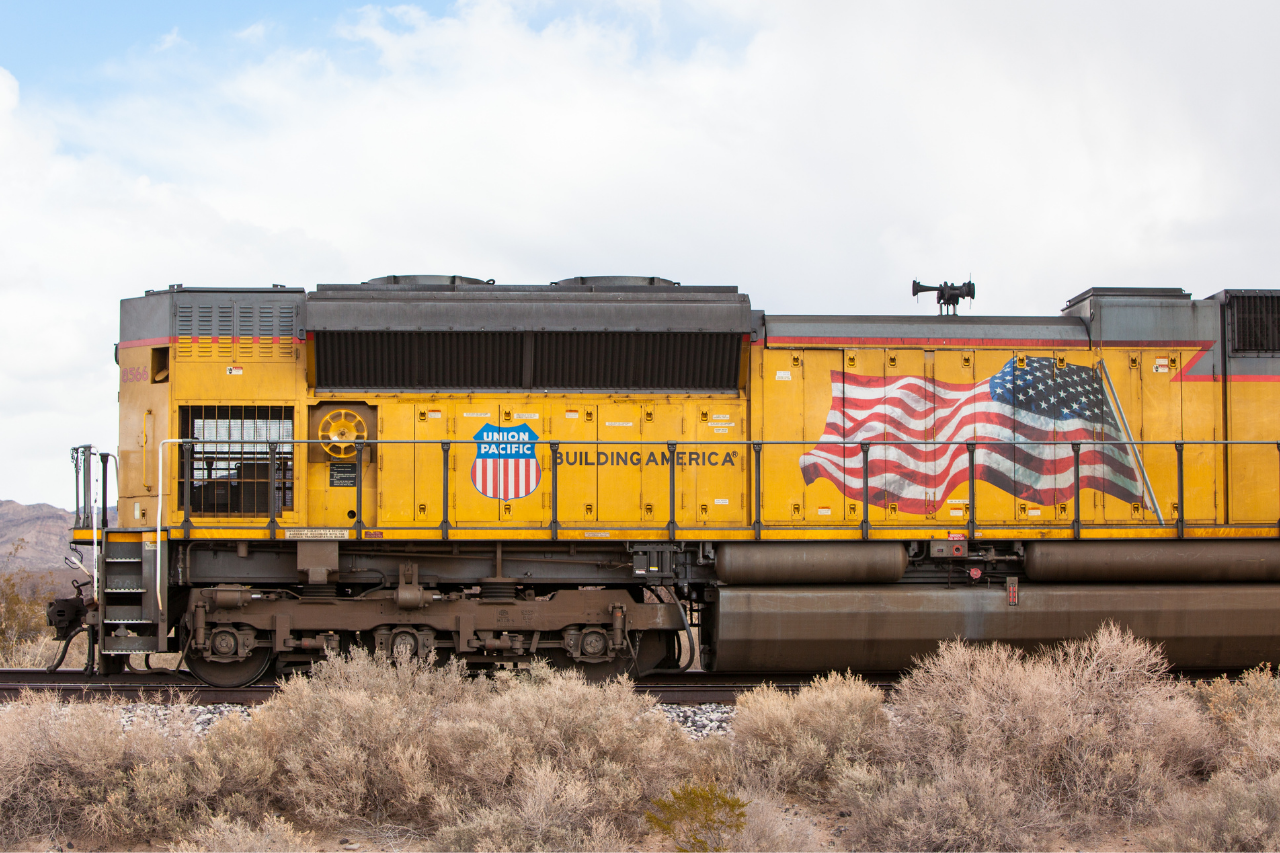 RAIL
Served by the Union Pacific transcontinental rail line, Gilbert offers rail access to industrial-zoned properties along a spur located in the Northwest section of the community.
AIR
Phoenix Sky Harbor International Airport
Located 12 miles west of Gilbert, Phoenix Sky Harbor Airport is served by 17 major airlines with daily service to approximately 85 U.S. cities and 20 international cities in Europe, Canada, Mexico, and Latin America. In 2010 Sky Harbor was the 10th busiest airport in the U.S. and the 14th busiest airport in the world.
Due to the great weather, Sky Harbor has been in the top 10 for departures and ranks 2nd for the past two years for on-time arrivals. Sky Harbor is the home airport of U.S. Airways with a significant presence by Southwest Airlines. Sky Harbor cargo facilities handle over 600 tons of freight a day.
Recognized as the reliever airport for passenger and freight traffic for Sky Harbor International, Phoenix-Mesa Gateway Airport is one of the fastest-growing commercial airports in the country. Currently serving nearly 1.5 million passengers to over 45 non-stop destinations, Gateway Airport is a significant economic engine in the Phoenix East Valley.
In 2019, Phoenix-Mesa Gateway Airport was named the Arizona Department of Transportation's Airport of the Year due to its growth and community outreach.
The airport has grown into an international aerospace center with aircraft maintenance, modification, testing, and pilot training. More than 35 aviation companies currently operate at the airport generating over $1.3 billion in annual economic activity. Designated as a Foreign Trade Zone and Military Reuse Zone, Gateway offers qualified aviation companies significant financial savings through transactional privilege tax exemptions, tax credits, and reclassification of state real and personal property taxes. Gateway is also home to SkyBridge Arizona, the only inland airport to offer a Unified Cargo Processing Center, allowing cargo to be pre-cleared by Mexican Customs officials here in Arizona.
Gateway is adjacent to a 1,000-acre education, training, and research campus with Arizona State University Polytechnic, Chandler-Gilbert Community College's Aviation Division, U.S. Air Force Research Laboratory and U.S. Army Reserve Center. According to population and growth estimates, Phoenix-Mesa Gateway Airport and surrounding areas will boast over 100,000 new jobs by 2035, making it one of the largest employment centers in the state of Arizona.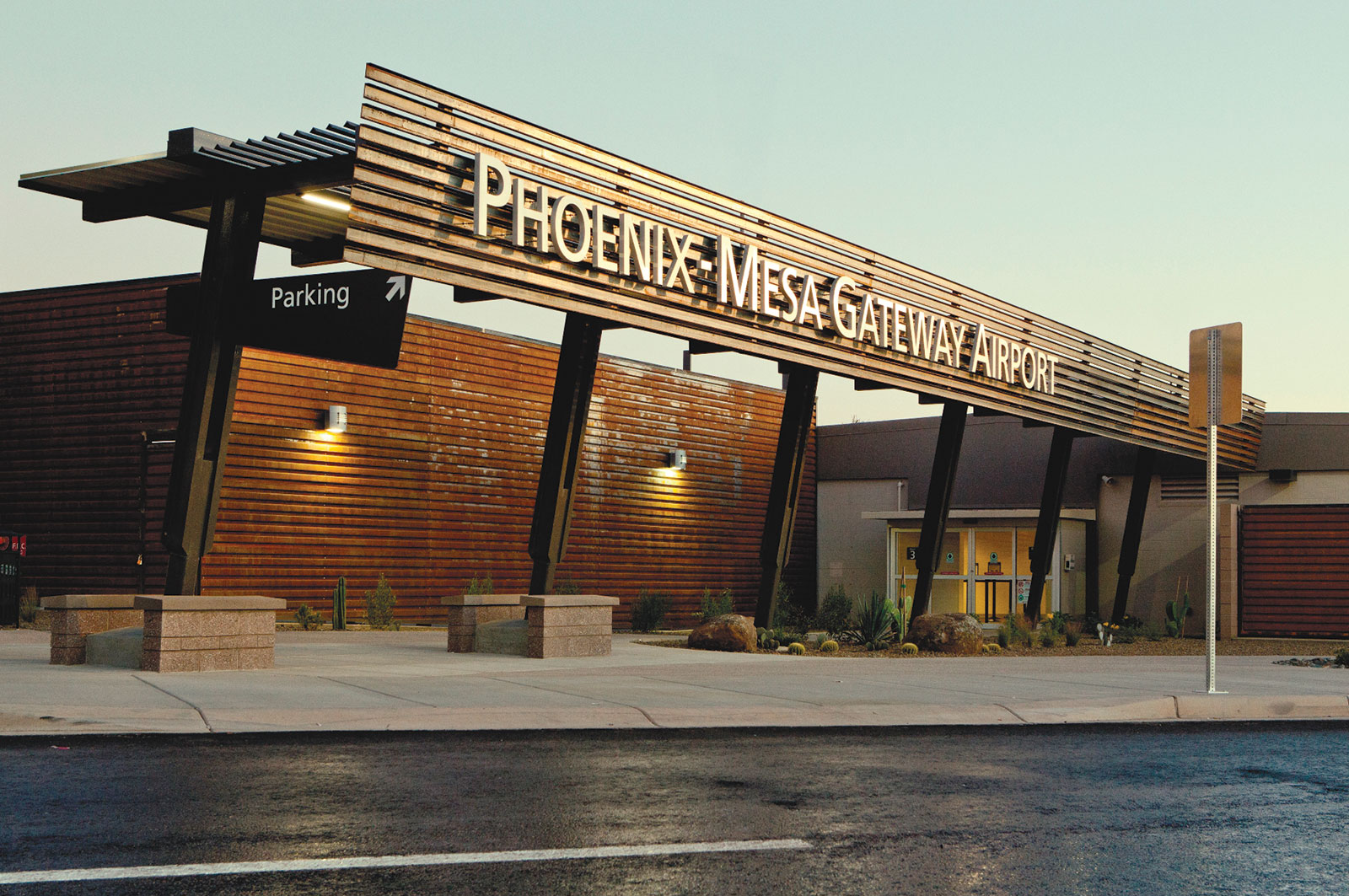 Flight Times: Domestic
 Albuquerque, NM
1 hr. 20 mins.
 Atlanta, GA
3 hrs. 40 mins.
 Chicago, IL
3 hrs. 20 mins.
 Dallas/Ft. Worth, TX
2 hrs. 25 mins.
 Denver, CO
1 hr. 45 mins.
 Houston, TX
2 hrs. 45 mins.
 Las Vegas, NV
1 hr. 10 mins.
 Los Angeles, CA
1 hr. 25 mins.
 Minneapolis/St. Paul, MN
3 hrs. 5 mins.
 New York, NY
4 hrs. 45 mins.
 Portland, OR
2 hrs. 45 mins.
 Salt Lake City, UT
1 hr. 45 mins.
 San Diego, CA
1 hr. 20 mins.
 San Francisco, CA
2 hrs. 5 mins.
 Seattle, WA
3 hrs.
 Tucson, AZ
50 mins.
 Washington, DC Metro
4 hrs. 20 mins.

 

Flight Times: International

 London, UK
10 hrs. 45 mins.
 Tokyo, JAP
15 hrs. 25 mins.
 Berlin, GER
18 hrs. 50 mins.
 Madrid, SPN
17 hrs. 35 mins.
 Mexico City, MEX
3 hrs. 5 mins.
Vancouver, CAN
3 hrs. 20 mins.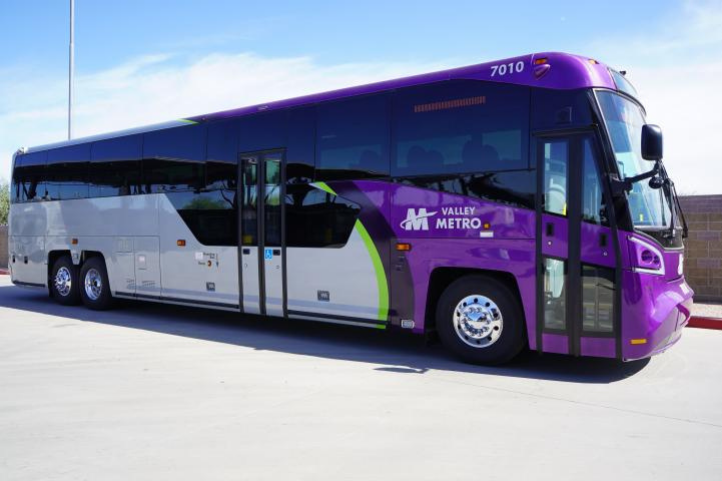 PUBLIC TRANSPORTATION
As a member agency of Valley Metro RPTA, Gilbert has developed an integrated regional transit system that provides accessibility and mobility for employees who commute into Gilbert from other areas of the metropolitan area. Gilbert partners with Chandler and Mesa to operate a bus-rapid-transit service that connects the east-end light rail station that serves as a major transit hub connecting Gilbert to the region.