High Technology
Gilbert, Arizona offers access to regional infrastructure, low operating costs, and the commitment of state and local leaders to high technology industries making the community an optimum location for firms of any scale that are considering expansion or relocation.

Gilbert: Hub of Innovation
The Greater Phoenix Region, including Gilbert, has become one of the fastest-growing regions in the country and has emerged as a hub of innovative activity for high-technology industries. Arizona provides operational costs of up to 36% less than California, allowing companies to focus on collaboration and growth.
In addition to a robust economy and diverse labor pool, Arizona also offers both Foreign Trade Zone and Military Re-Use Zone incentives, which can provide the lowest effective tax rates available anywhere.

Advantageous Business Climate
Companies benefit from a pro-business climate that offers low business costs, no corporate franchise tax or business inventory tax, and skilled workforce.
Low Risk For Natural Disasters
Gilbert, and Arizona, both offer consistent power and electricity for critical IT operations and data centers. 
Skilled Workforce
Companies like Northrop Grumman, Curry Supply Company, and Lockheed Martin all benefit from the highly skilled workforce in Gilbert.
Market Access
Gilbert offers a multimodal transportation network that provides access to clients, workforce, and supply chains enhancing logistic capabilities and reducing operational costs.
Number of High Technology Jobs
2015 - 2020 Percentage Change in Gilbert Employment
High Technology Jobs Within a 30-Minute Commute
Interested in learning more?
Contact our team. We're here to help you.
Site Selection Assistance
Gilbert offers clients a pro-business environment and an array of available properties and land, including shovel-ready sites, build-to-suite, and more. Clients will receive confidential site selection assistance to ensure a smooth entrance into Gilbert and a connection to key resources.
In-Depth Market Data and Analysis
When choosing a location for your expansion or relocation, having access to necessary data is key. The Gilbert Office of Economic Development can provide necessary data on labor force, educational levels, salary information, and more.
Assistance in Growing Your Business
Gilbert is focused on fostering entrepreneurship and innovation within the community. From no-cost education and business resources to working with regional partners to build an Angel Investor Network, we're dedicated to helping your business find success in Gilbert.
Connectivity to Key Resources
The Gilbert Office of Economic Development can assist your company in making key connections, such as workforce and training programs, local educational partners, Gilbert business leaders, and other industry-specific business resources.
Notable High Technology Companies in Gilbert
Adhere Health
Deloitte
Footprint
GoDaddy
Lockheed Martin
Moog
Northrop Grumman
PayGround
Silent-Aire
Educational Assets for High Technology Industries
Arizona is home to leading higher education institutions that are committed to advancing research & development in the high-technology industry. 
HIGHER EDUCATION:
Arizona is home to leading higher education institutions and training institutions that are committed to advancing research & development in the high-technology industry. Local employers will benefit from a diverse talent pipeline from:
Arizona State University
University of Arizona
Northern Arizona University
Grand Canyon University
Maricopa Community Colleges
Chandler-Gilbert Community College (CGCC)
The University of Advancing Technology
Embry-Riddle Aeronautical University
LEADING RESEARCH AND DEVELOPMENT CENTERS:
There are a variety of leading research and development centers that support local companies, startups, and government agencies.
Arizona Cyber Warfare Range
United States Army Network Enterprise Technology Command
Arizona Statewide Cyber Workforce Consortium
ASU Center for Cybersecurity and Digital Forensics
University of Arizona Wireless Network and Cyber Security Research Lab
CyberSecurity Canyon
AZ Labs
"Our strategic decision to locate our new delivery center in the metro-Phoenix area expands upon our nearly 60-year investment in, and commitment to, Arizona. The new center will further enhance our leadership position in the region by leveraging a deep talent pool of highly-skilled workers to serve our clients across industry sectors."
"Today's groundbreaking event marks an expansion that is expected to create full-time, high-wage jobs locally with potential for additional job growth," said Frank DeMauro, vice president and general manager, tactical space systems, Northrop Grumman. "This expansion also continues the long history of developing innovative aerospace products in the Gilbert area that help customers achieve mission success while creating new aerospace jobs in the region."
"Our partnership with the Town of Gilbert Office of Economic Development has been a driving force behind our expansion," said Dan Leckelt Co-CEO. "Gilbert is a growing community with skilled and technical workers, a large supply chain, and a progressive environment that made this facility a reality."
Recent Announcements in Gilbert

A new report details the rapid growth of Arizona's tech sector during the pandemic, ranking eighth in the nation for tech job gains in the past year. What's more, Arizona also ranked fifth in projected tech job growth from 2020 to 2030, showing that momentum is expected to continue for years to come.
read more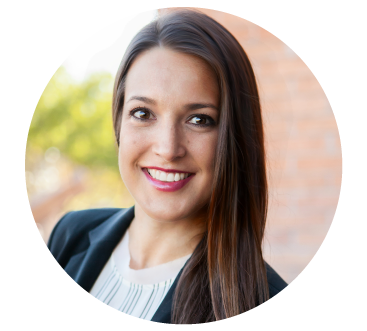 Lauren Conangla
Economic Development Project Manager
TELL ME MORE ABOUT GILBERT'S HIGH TECHNOLOGY INDUSTRY